Day 3 - Can you go home again? We first ran out to
Ta'Qali
to see how expensive the house signs really are, now that we finally came up with a name for the cabin that we all liked. Turns out that they are removing all the old Quantas huts and making pretty little stone buildings, so there is a ton of construction and it was hard to find Bristow Pottery (where everyone we knew back when got their signs) and also that they cost a lot more than we cared to pay for an upgraded 1950s hunting shack. Then off to the new Embassy (well, 8 years new or so, but they broke ground when we were there and we never saw it) for a tour by an old friend and seeing a lot of old faces in a very fancy new surroundings. I love that they created shade for the car parks by putting up solar panels. Solar in a country with 330 days of sunshine is just a no-brainer.
After that visit it was time for lunch and the "trip home". We first went to the parking lot of the local grocery store, where I used to buy all my produce from the lady with the truck. (this is a stock photo to get an idea of these produce trucks). She used to give Alex a banana to snack on while I made my selections and my weekly or more frequent trips were a big part of my Maltese experience.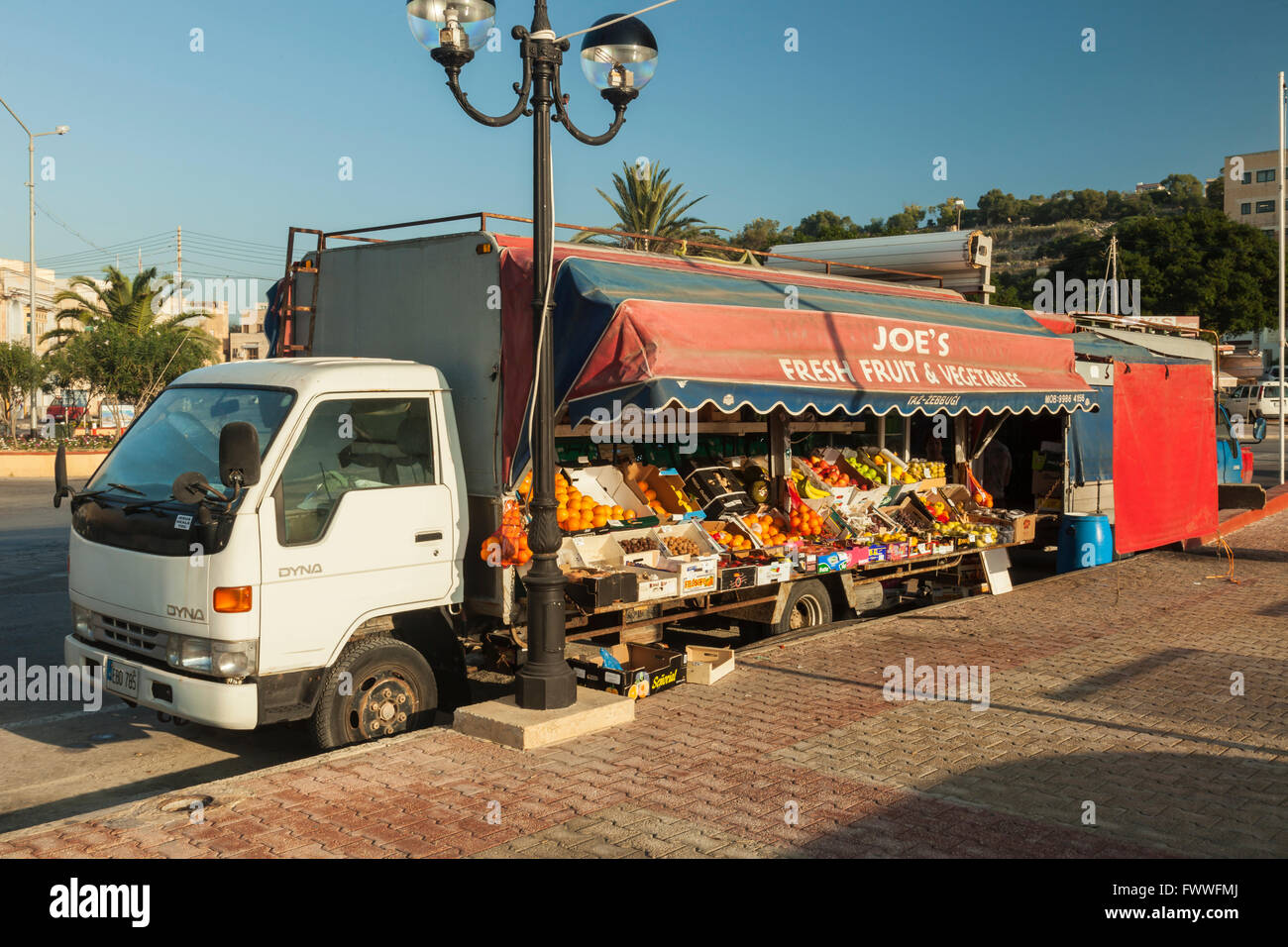 There was a truck still in the parking lot, but manned by someone who was clearly no relation. My heart sank a bit but we resolved to buy something there for old times' sake before we left. Then off for pastizzi and other pies for lunch! When we discovered the place we used to go to was still there and the cost of all the food we bought - the best meal we had eaten so far - was a fraction of even the cost of the doner we ate the day before, we kicked ourselves for not eating more meals this way. Thus fortified, we went back in time. Or rather, we walked past our old house. As we passed it, they had the front and back doors opened so I could see down the long, wide hallway that led from one to the other. We could see a tiny slice of the back yard and were reminded of how lovely the garden was. Then on to another one of our favorite spots in the country, San Anton Gardens.
The house where we had lived was one block from the Gardens and Alex and I had spent untold hours there in the shady green and relative coolness. There are ducks and swans in the various ponds, and red-eared sliders - the kind of turtle Terry used to have. There's a small zoo-ish enclosure - all birds - to one side and a garden clock. One of the side ponds now houses a pair of black swans who were mesmerizing to watch, especially noting the clutch of eggs the mom swan kept wandering back over towards (in their little shelter in the middle of the pond) when people came too close. Near the main pond is now a peacock and two hens. When we got to the main pond there were all the ducks and the white swans, but no turtles. We started to lament ever having tried to look backward. Then as we were leaving we decided to pop over to the third pond/fountain and there they were. All of them. Reminiscent of Yertle the Turtle's pond except with less fascism. Very survival of the fittest, though, as we watched one particular turtle try to get out of the chilly water to sun himself and be constantly thwarted by other turtles either in his way or, in their own efforts to get up, pushing or kicking him back down. We all cheered when he finally got clear just before we headed out.
Returning to the car, we noted a different person manning the produce cart and he looked more likely to be a relative of the woman I remember so fondly. I asked him and it turned out he was her nephew, and he had been helping her for enough years he must have been one of the young men I remembered some times being there!
By then we were waffling on what to do next, whether to return to the apartment for a rest or hit one more spot. Going for gold, we decided to take the kids to the northwest coast where we missed the exact spot we were looking for and thus ended on a rocky, craggy part with much sharper points on all the rocks. Did not deter the kids, who by the end of the hour were soaking wet and thrillingly happy.